Air Handler Cleaning, Air Handler Maintenance, and Air Handler Restoration in Manassas, Virginia
When regular AHU maintenance does not take place, the unit can become totally non-functional.
For AHU restoration in Manassas, businesses turn to Air Cleaning Technologies. When you have a larger building, from a warehouse to a hospital to a large manufacturing facility, you need to move air around to keep a welcoming environment for everyone working inside. You likely have air conditioners on the roof of your Manassas building, but it's the air handlers inside the building that you need to include in your maintenance schedule. In order to ensure that your system is clean and operating as it should, call in the experts from Air Cleaning Technologies. They can handle your air handler maintenance schedule, and when needed they can perform air handler repairs, cleaning, and restoration. Don't put off checking your air handlers, contact them today.
Air Handler Maintenance and Repairs in Manassas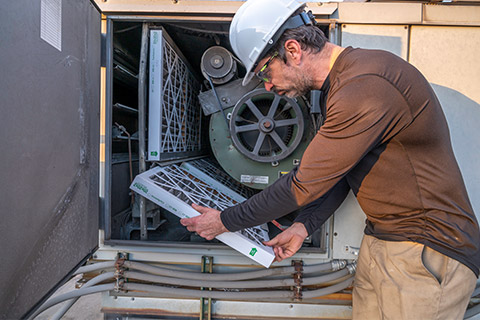 It is important to have the air handlers in your building checked at least once per year. Air Cleaning Technologies is ready to add you to their maintenance schedule to make keeping up with this important task easy. They will dismantle each air handler that you have in the building and inspect them for any issues and clean them out. This is the perfect time to deal with any needed air handler repairs in your system. Better to deal with them now while things are opened up and the problem is small rather than wait and put off the inevitable. Once they finish the air handler cleaning and they are fully inspected, they will reassemble them and your system will be ready to go.
Air Handler Restoration in Manassas, VA
If your system has been in the building for many years, it is possible that you may need a commercial air handler (AHU) restoration. Rather than replace the entire system, doing a restoration project when the basic structure is still sound makes much more sense. This determination often happens during air handler maintenance, when things are apart, and the technicians from Air Cleaning Technologies can manufacture replacement parts to do a quality air handler restoration for your system.
In July 1861, the First Battle of Manassas—also known as the First Battle of Bull Run—was fought nearby, the first major land battle of the American Civil War. The Second Battle of Manassas (or the Second Battle of Bull Run) was fought near Manassas on August 28–30, 1862. At that time, Manassas Junction was little more than a railroad crossing, but a strategic one, with rails leading to Richmond, Virginia, Washington, D.C., and the Shenandoah Valley. Despite these two Confederate victories, Manassas Junction was in Union hands for most of the war.