Custom Air Handlers
in Alexandria VA, Annadale VA, Arlington VA, Fairfax, Falls Church VA, Reston, Sterling VA and Surrounding Areas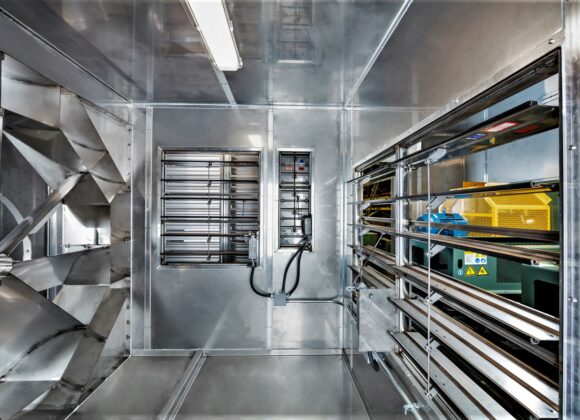 Cleaner Air PLUS Efficient Climate Control
Custom Air Handling Units (AHU) designed and built by Air Cleaning Technologies condition and deliver heated or cooled air into your air duct system, resulting in evenly distributed conditioned air throughout your building. Our special built-in filter system removes pollutants from the indoor air, reducing many of the allergy triggers and improving the overall air quality.
Heated or cooled air from your system is pushed into the air handler by fans which then passes through filters that collect dust, allergens, and other pollutants. This cleaned and conditioned air is pushed into the ductwork and circulated throughout your facility.
Air Handling Units combine a variety of ventilation systems into one system. They improve air quality, improve climate control, increase HVAC system energy efficiency and reduce airborne allergens.
Field or Factory Built
Built for Comfort, air quality and Regulatory Compliance, air cleaning Technologies' AHU can be field or factory-built. Each unit is tested for factory performance standards. Both our shield and factory-built units are based on system parameters and variables which include temperature, humidity, and air purity, as well as pressure requirements, level of purification and other variables. Our units can be built for indoor and outdoor installation with galvanized and foam-filled walls. Based on your individual requirements, these walls can be built in a variety of thicknesses.
Our custom units are available as Uniseal Air Handlers, Panel Seal Air Handlers, or Thermal Seal Air Handlers. Each design varies according to specifications, pressure, and cost.
Field-built Air Handlers
Field built air handlers are designed, built and tested under the same stringent quality control stands as our EFU's.
Field built units are pre-engineered and assembled on the job site eliminating costly GC work and schedule impacts.
ACT air handlers are tested after assembly to ensure compliance with all specifications and requirements.
All of our air handlers are assembled and tested by ACT personnel to ensure consistent quality and workmanship. Our air handling assembly technicians have an average of 10 years of experience.
We offer extended warranty and service for each unit we build.
Factory-built Custom Air Handlers
Flanders Air Seal: Custom Air handlers
Make up air units
Fan arrays
Pollution control systems
NQA-1 air handlers