Air Handler Repairs in Baltimore, MD
At Air Cleaning Technologies, we service many different air handler repairs for all sizes and ages. Many locations and facilities run their HVAC systems non-stop to control Baltimore's heat and humidity and provide a steady stream of clean air. Clean air is essential to many facilities, including research labs and hospitals. So when there is any repair required for large commercial air handlers, we take it very seriously. Air Cleaning Technologies is your top source for air handler repairs in Baltimore because we handle the design and construction of large air handler units and know every part and component.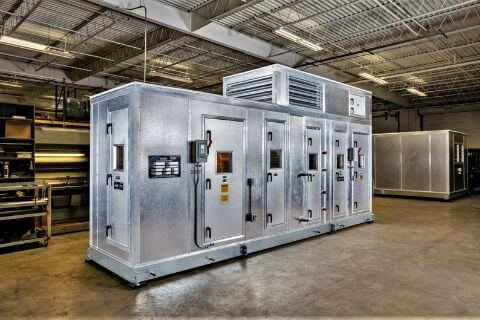 The air handler repair needed for your unit may not result from a lack of service or the original manufacturer. We see many units that go through the typical wear and tear that causes deterioration of various parts.
Our first step is a condition report that includes the original AHU design and current condition. This survey provides insight into what needs to be repaired and any unusual stress put on the unit.
Then we'll isolate issues and test for biological growth. Sometimes repairs are needed for blocked drainages and even the occasional pest issues.
Next is a complete cleaning of the interior, including casings using HEPA vacuums and EPA-registered cleaners, and sanitizers. This thorough cleaning will remove any contaminants that entered due to cracks or compromised areas.
Now we'll remove and replace any parts that have deteriorated. Replacement parts may include metal casings, condensation pans, and other components.
If internal components are part of the overall air handler repairs, we'll replace the coils, fans, filters, dampers, and anything else needed.
Your facility's air handler repairs may include all these steps, and they may consist of more. The goal of all air handler repairs in Baltimore is to properly diagnose issues and return the unit to its best-operating function.
Air Handler Restoration in Baltimore, MD

Occasionally, air handler repairs are not enough, and a unit needs to undergo one form or another of an air handler restoration. Air handler restoration is a great way to extend the life of a unit. Air handler restoration includes some of the steps mentioned above and then goes even further to seal off leaks and weakened areas. Of course, the whole unit will be sanitized first as well as sampling taken before and after.
Repairs for Large Unit Air Handlers in Baltimore, MD
The John Hopkins University is the largest university within Baltimore, with an enrollment of 26,000. The university was first created in 1876 from a $7 million endowment from its founder John Hopkins. This endowment was the largest philanthropic gift up to that time and created what some believe is the first research university in the country.
Call today at 703-397-8853 and schedule an appointment to discuss your air quality needs. We guarantee customer satisfaction with top-quality service that puts you first!