Air Handler Restoration and Commercial AHU Restoration in Fairfax County, VA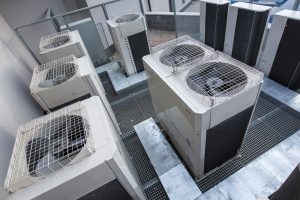 When regular maintenance does not take place, the unit can become totally non-functional.
Like everything else, air handling units are prone to wear and tear and deterioration with time, making air handler restoration an essential part of your regular maintenance routine. Air handlers are designed to improve your indoor air quality and regulate your HVAC system, ensuring everything runs smoothly.
To guarantee that your air handling unit remains in good condition throughout the year, it's important to maintain regular maintenance to avoid breakdowns and further costs. Doing so will save you money in the long run while maximizing the life of your unit.
Commercial AHU restoration offers various advantages over unit replacements. Scheduling a restoration for your air handling units requires less time, allowing you to return to your normal routine as soon as possible. Opting for restorations will also save you more money, improve the efficiency of your unit, and result in fewer disruptions in productivity.
Air Handler Cleaning/Repairs/Maintenance in Fairfax County, VA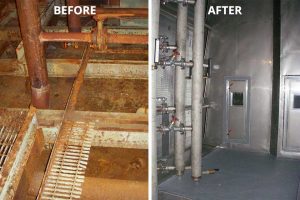 Air Cleaning Technologies is highly experienced in providing air handler restoration as well as cleaning, repairs, and maintenance services in the Fairfax County area. We have 20 years of experience offering engineered solutions to any air handling unit issue.
Our team of experts begins by conducting a full inspection to assess your needs. Following the inspection, we clean, sanitize, and seal the air handlers. Whether you're looking for a cleaning or a complete air handler restoration, we are trusted air handler technicians ready at a moment's notice to satisfy any service needs you might have.
Offering unparalleled knowledge and experience, our team at Air Cleaning Technologies provides the best, most cost-effective AHU restoration solutions. We pride ourselves on providing comfort and energy efficiency in households across Fairfax County.
Fairfax County Air Handler Restoration
From Native American hunting camps to Civil War training grounds, Fairfax County is rich in American history, making its historic preservation and heritage resources a priority for its residents. In addition, Fairfax County is notable for being home to various headquarters of intelligence agencies, including the Central Intelligence Agency. With its annual festivals as well as its abundance of natural parks and trails, Fairfax County offers an incredible history and lively experiences.
Get in touch with us at 703-397-8853 to learn more about how we can help restore your air quality. With every service, we prioritize customer satisfaction to ensure your needs are met.