Cooling Tower Cleaning, Cooling Tower Repair, and Cooling Tower Maintenance in Columbia, MD
Bring Your Cooling Tower to Like-New Condition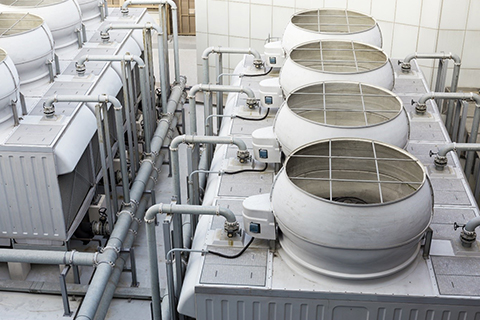 If you are experiencing an issue with your cooling tower, then it may mean that it is time for a professional cooling tower cleaning. At Air Cleaning Technologies, we provide businesses and buildings with cooling tower cleaning, maintenance, and repairs in Columbia, MD and the surrounding areas. With over 20 years of experience providing professional HVAC services to the area, we are the preferred choice for cooling tower services in our community. Contact us today to learn more!
Cooling Tower Cleaning in Columbia, MD
Through cooling tower cleaning services, we ensure that your system is not only thoroughly cleaned but functioning at 100%. From removing microorganisms, treating water, and preventing build-up, we help you improve the longevity of your unit and prevent the need for cooling tower repairs in the future. Get in touch with us today to learn more!
Cooling Tower Repair in Columbia
When you need cooling tower repairs, you cannot wait a moment before giving the professionals a call. While frequent cooling tower cleaning and maintenance can help increase the longevity of your unit, there will likely come a point when cooling tower repairs are necessary. But how do you know that your cooling tower system requires a repair? Here are some of the signs that it is time for a cooling tower repair:
Visible Damages – Visible damages on the exterior of your cooling tower are a sure-fire sign that you need to hire a professional for repairs.
High Energy Bills – If you have noticed that your energy bill has increased substantially, then it may be time for cooling tower maintenance or repairs.
Water Flow Issues – Improper waterflow is a strong indication that you need to contact a professional for repairs.
Cooling Tower Maintenance in Columbia, Maryland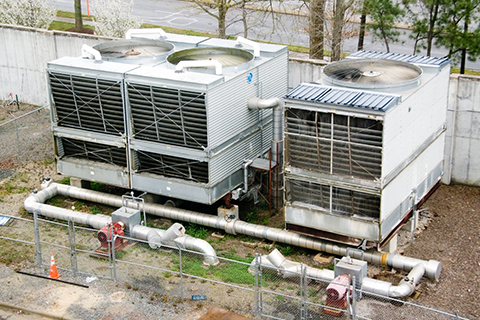 Columbia, Maryland is a census-designed region in Howard County. As a prominent part of the Baltimore-Washington Metropolitan area, Columbia, MD draws in tourists year-round. Columbia is home to several historic attractions such as Centennial Park, Dorsey Hall, the Savage Mill Historic District, and other scenic locations with American roots. While Columbia is one of the best places to live in the state, many individuals forget that it is also a wonderful place to start a business and has thousands of businesses of all sizes and trades. It is no wonder why the area continues to grow in population annually.
At Air Cleaning Technologies, we are proud to help businesses with cooling tower maintenance in Columbia, MD and the surrounding areas. Whether you are looking for a professional technician to help with complete cooling tower restoration or general cooling tower maintenance, we are here to meet your needs with efficient and professional service. Contact us today to chat with a professional about creating a cooling tower maintenance plan for your business or building in Columbia, MD or the surrounding areas.