Cooling Tower Cleaning in Fairfax County, VA
We offer cooling tower fill and cleaning services to Fairfax County, VA, industrial sites.
Cooling towers usually operate under humid conditions, making their metal parts susceptible to rust and corrosion. Contaminants, dust, dirt, and pollutants present in the water can block the fill media and spray nozzles.
Cooling towers degrade over time. Ongoing contamination and corrosion result in system failure. When this happens, the company will need to replace the cooling tower. The towers feature film and splash fill media to increase the surface area or point of contact between air and water.
Dirty towers must work longer and harder to attain the same results. The increase in load increases condensing pressures, which put more stress on system exchangers and chillers. As a result, the system stress increases, affecting system longevity.
Cooling Tower Maintenance Services in Fairfax County, VA
The cooling tower system requires regular cleaning to get rid of contamination. At ATC, our experienced tower cleaning professionals provide standard cooling tower cleans, start-up cleans, super cleans, and disinfections, among others.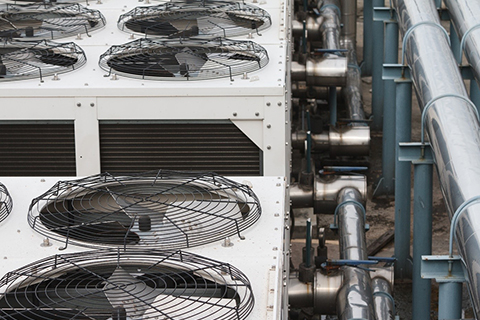 With our extensive experience in tower cleaning of all models and makes of cooling towers, our custom cleaning services include:
24/7 service to prevent your company's production or work-week disruptions
Attention to details for optimal outcome
A detailed report
All cleaning and related upgrades
Restoration of equipment to full working condition
Certified to work at heights and in confined spaces, our tower cleaners in Fairfax County aim to restore your cooling tower to its original working capacity and efficiency.
Cooling Tower Cleaning, Maintenance, and Repair for Fairfax County, VA, Businesses
Our ATC cooling tower restoration services in Virginia and its surrounding areas, including Fairfax County, involve maintenance, cleaning, and repair. We use industry-leading sealants and cleaning solutions with the most up-to-date equipment to reverse damage to your cooling tower.
Our technicians will assess your unit to deliver the appropriate repair service. We can save you money with restoration if we do not need to replace your cooling towers altogether.
Contact us today at Air Cleaning Technologies by calling (703) 397-8853 to schedule regular cleaning of your cooling towers to achieve maximum performance.
Fairfax County in Northern Virginia lies within the SW suburbs of Washington, DC pockets. The county, which has both rural and urban areas, had 1,150,309 people in the 2020 Census. The county is home to several U.S. national intelligence agencies such as the Central Intelligence Agency (CIA), seven Fortune 500 corporate headquarters, and several centers of higher education, such as George Mason University and The University of Fairfax.