Over 20 Years of Experience and Commitment to Cooling Tower Repair and Restoration.
Cooling Tower Restoration
ACT is the leading resource for cooling tower restoration in Alexandria, Arlington, Fairfax, and all other nearby cities. Our cooling tower restoration specialists are highly trained professionals that take what they do very seriously. They are very well equipped with state-of-the-art equipment, cleaning solutions, and sealants. Rooftop work is not a problem for our team, and we have experience with all different types of cooling towers. We get the job done right the first time, every time, and you will probably be pleasantly surprised when you get a quote from us for a cooling tower restoration project.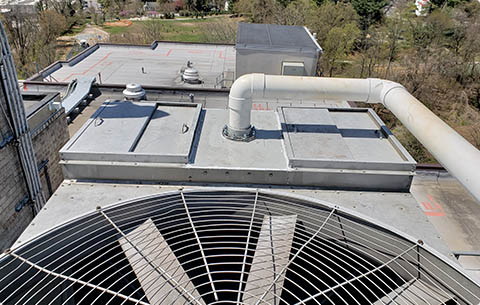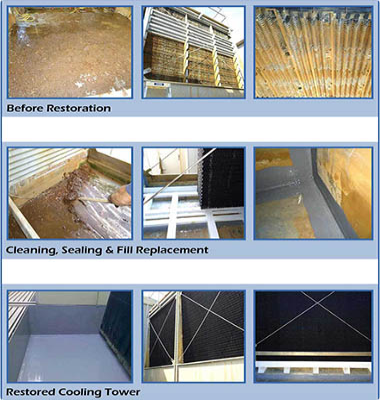 Restore Your Cooling Tower
Since cooling towers are immersed in humidity, there is no getting around the fact that metal parts are going to corrode over time. Plus, dirt, dust, and impurities in the water will often clog the spray nozzles and the fill media. This will make the tower work harder to serve its function, and the corrosion will weaken the structural integrity of the unit. These factors can lead to complete system failure, and under these circumstances, a costly replacement would be necessary.
Restoring your cooling tower can prevent this.
Peak Efficiency Restored
When you engage Air Cleaning Technologies to provide a cooling tower restoration, you will not have to absorb total replacement costs. We will examine the condition of your tower and put our formidable restoration skills to work you. Our service can include:
Descaling
Tower-Specific Fill Media
Glass-Reinforced Plastic Parts

Motor and Gear Box Conversion
Drift Eliminators and Louvers
Submersion-Grade Sealants
If you suspect that your cooling tower is not operating efficiently because there are readily apparent symptoms, we can restore it for you. This being stated, regular maintenance can keep your tower running smoothly and nip potential future problems in the bud. This is another service that we offer, and it can save you quite a bit of money in the long run.