Owning an HVAC system is essential these days because of the changing environmental condition and evolving lifestyles. That is why it has become essential for all companies to also invest in proper heating and cooling units. It adds more comfort and convenience in the workplace, thereby contributing to the image of the brand as well. However, proper ventilation ducts is a necessary component of your HVAC systems. This is directly related to the regular maintenance of the commercial air duct as well as the quality of the indoor air. We, at Air Cleaning Technologies, can help. We have a team of highly knowledgeable and experienced individuals who can carry out the commercial air duct cleaning for you. We are a highly reputed company which is ACT certified ad adhere to all the National Air Duct Cleaning Association (NADCA) regulations. So, if you are from areas such as Alexandria VA, Annandale VA, Arlington VA, Fairfax, Falls Church VA, or Reston, then you can resort to us.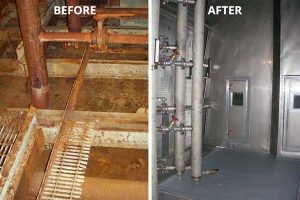 Here, we have put together a few crucial questions you should ask your commercial air duct cleaning service. Take a look.
Do you use the HEPA vacuums in your cleaning process?
Cleaning the air ducts becomes easier with the High-Efficiency Particulate Air (HEPA) vacuums in order to trap the airborne particles as well as the compressed air whips. This will help the debris and scrub the duct for you. An advanced level cleaning requires this kind of tools and equipment.
How much do you charge for your services?
You need to make sure that you don't compromise on your budget when you are looking to hire such a company. Therefore, ask the company about the estimated quotes for the services rendered.
After asking such questions, if you think we can be the right choice for you, then quickly contact us today.