Dust is everywhere – even in your air ducts! The air ducts in your office provide a very important function. Do you know that all of the air in your living space circulates through these ducts multiple times a day? As a business owner, it is your duty to maintain the well being of your employees and customers. A healthy environment for your employees starts with cleaner, better and healthier quality of air. Commercial air duct cleaning can greatly improve the quality of air by removing dirt, dust, and debris from your HVAC system. It can also help your business save a lot of money in the long run as you do not have to replace your systems quite often.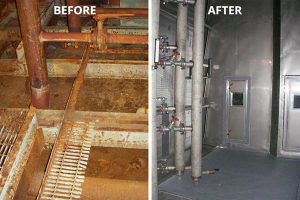 At Air Cleaning Technologies, our highly experienced team of technicians and professionals are trained to meet all of your facility's cleaning requirements. We have performed hundreds of HVAC cleaning projects in all kinds of commercial spaces. If you are from any of these areas – Alexandria VA, Annandale VA, Arlington VA, Fairfax, Falls Church VA, and Reston, we assure you that we are the best in town.
Here are some more reasons why cleaning your HVAC systems is absolutely necessary:
Reduces allergens
People who suffer from allergies and respiratory problems are sensitive to dust and other airborne particles. A routine air duct cleaning promotes healthy air, otherwise, the dirty air in your office would just keep recirculating over and over again.
Improves airflow efficiency
A heavy build-up of dust and grime can restrict the flow of air in your HVAC systems, resulting in a decreased level of efficiency. Conversely, a clean HVAC system will provide the best and most cost-effective performance.
Not sure if your ducts are dirty? Contact us today at 703-547-1680 to get more information on commercial duct cleaning.