Here are Some Benefits of Using MERV 13 Filters
MERV 13 filters, also known as Minimum Efficiency Reporting Value 13 filters, are high-efficiency air filters commonly used in HVAC (Heating, Ventilation, and Air Conditioning) systems. If you live in Alexandria, Baltimore, Silver Springs, Sterling, Washington, Arlington, you should get MERV 13 filters from Air Cleaning Technologies.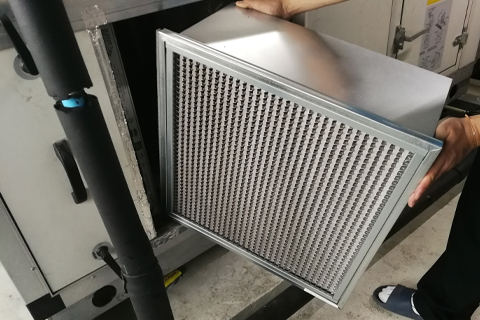 Here are some benefits of using MERV 13 filters:
Improved Air Quality: MERV 13 filters are designed to capture a high percentage of airborne particles, including pollen, dust mites, mold spores, pet dander, and other allergens. By effectively trapping these particles, MERV 13 filters can help improve indoor air quality and reduce the risk of respiratory issues for individuals with allergies or asthma.

Enhanced Allergen Control: MERV 13 filters provide a significant level of allergen control by capturing particles as small as 0.3 to 1 micron in size. This makes them effective in reducing the presence of common allergens, such as pollen and mold spores, which can cause discomfort and allergic reactions in susceptible individuals.

Dust and Pet Hair Reduction: MERV 13 filters are capable of capturing a wide range of airborne particles, including fine dust and pet hair. This helps to reduce the amount of dust settling on surfaces and minimizes the presence of pet dander in the air, leading to a cleaner and healthier living environment.

Improved HVAC System Performance: By trapping a higher percentage of airborne particles, MERV 13 filters help keep the HVAC system's components cleaner. This can lead to improved system performance and efficiency, as well as extended lifespan for the equipment. A cleaner HVAC system also means reduced maintenance and fewer issues with clogged ducts or dirty coils.

Odor and VOC Reduction: Some MERV 13 filters are designed with additional activated carbon layers, which can help reduce odors and volatile organic compounds (VOCs) in the air. These filters have the ability to absorb and trap various odorous particles and chemicals, resulting in fresher and cleaner indoor air.

Protection Against Harmful Particles: MERV 13 filters provide a higher level of filtration compared to lower-rated filters. They can capture smaller particles, including certain bacteria and viruses, which may be present in the air. While they are not designed to provide complete protection against all airborne pathogens, they can contribute to reducing the overall particle count in the air and potentially mitigate the risk of exposure.
It's important to note that while MERV 13 filters offer significant benefits in terms of air quality improvement, their effectiveness may depend on various factors such as the size of the space, the HVAC system's design, and maintenance practices. Regular filter replacement and proper maintenance are crucial to ensure optimal performance. Do not hesitate to call us.