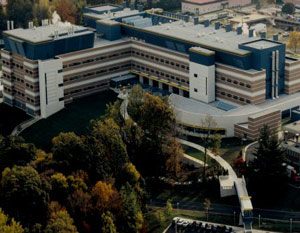 Air Cleaning Technologies, Inc. (ACT) is involved with many critical air handling unit (AHU), Chemical Biological and Radiological (CBR), and AHU restoration projects, including the AHU restoration projects for Walter Reed Institute of Research (WRAIR) facility located at the Walter Reed Medical Center Silver Spring, MD Annex. The WRAIR facility is a large research center that includes dozens of BSL-3 laboratories. The facility ventilation system is supported by ten large AHU's totaling over 800,000 CFM in capacity.
Existing AHU's were 25 years old and had deteriorated to the point where the US Army Corp of Engineers (USACE) evaluated the cost of total replacement versus AHU restoration. USACE decided that the existing unit casings were still structurally sound but that all of the internal components needed to be replaced.
The USACE issued a detailed RFP with specifications that included:
Removing all internal AHU components including the air to air heat exchangers, filters, supply fans, heating and cooling coils, access doors and the humidifiers
Coating the existing interior casing liners with a fire rated epoxy
Performing case leakage testing on the restored AHU's
Additionally, the installing contractor would have to provide full temporary air service so that there was no impact to the facility. We developed a plan that slashed the cost of the project by over $1,000,000 to win the award in 2016.
ACT's cost saving approach included:
Installation of a permanent "center wall" that separated each AHU into two isolatable sections. Supply air discharge dampers were installed so that each unit could be restored, half at a time. This approach reduced the total required volume of temporary air from 144,000 CFM to 72,000 CFM.
ACT technicians fabricated modular custom temporary air units that could be maneuvered in and out of mechanical rooms and that would require minimal temporary duct work. These portable temporary air units were placed adjacent to each AHU reducing the amount of supply air duct work by 90 percent.
We proposed replacing existing liners with new solid metal liners in lieu of coating the existing liners with fire rated epoxy. The USACE requirement to coat the existing liners would have led to change-order requests as the existing perforated liners were too deteriorated to be coated with epoxy. Many of the liners would have had to be removed and replaced with new metal liners, then coated with epoxy.
ACT was able to include the full replacement of the existing liners with new solid metal liners with no price impact to the USACE.
ACT is expected to complete the project, one of our largest and most high-profile, on schedule and under budget.