With the steady rise in heat and humidity, HVAC systems have become a must for all residential and business spaces. In commercial buildings specifically, the use of these machines is extremely high. Because they are used all over the year, it is only natural that these machines go through wear and tear. This is why it is necessary to care for HVAC units from time to time. An important aspect of maintaining the performance ability of these machines is to clean the air handler and restore it when the times comes, without any sort of delay. For air handler cleaning, you should rely on professionals as they are experienced and have the access to certain equipment that are not readily available for our use. If you need such a company, then we at Air Cleaning Technologies can help you. We typically begin by doing a survey of the unit, following which we offer restoration and cleaning services if the need arises. So, if you reside in places like Fairfax, Reston, Alexandria VA, Arlington VA, Falls Church VA or Annandale VA, then we can be the right pick for you.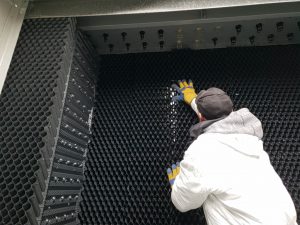 Here are two reasons why you should definitely arrange an air handler cleaning at your home and office. Have a look.  
Regularly cleaning the air handler unit or the AHU will help make sure that there is not obstruction in the airflow. It also automatically inhibits any sort of dust deposit or growth. This ensures a cleaner air flow in your surroundings at all times.  
Avoid Blower Motor Problems

 
The blower motor in the AHU forms an integral part of the unit. If you take on professional cleaning services, then you can avoid blower motor problems from surfacing in the future. A dysfunctional blower motor can cause a sudden breakdown in your machine. This problem can be avoided with the help of professional AHU cleaning and maintenance services.  
If you think that you need such services, then contact us today, and we'll take it from there!