Comfort is the key to a happy home. Whenever you are planning the interiors at home, you should always make comfort your priority. That is why HVAC systems are essential for every kind of home. However, simply purchasing a good machine from a reputed brand will not be enough. You should also opt for HVAC maintenance. Make sure that every part of your HVAC systems are regularly monitored and cleaned. One of the important parts of the HVAC system which ensures proper regulation of air in the system are the air handlers. We, at Air Cleaning Technologies, can offer you highly advanced air handler maintenance and restoration services. We have certified and experienced professionals who can clean and seal the air handlers which might be showcasing water leakage or have failing components or casings. With our quality services and affordable rates, we have become a preferred choice in areas such as Bethesda MD, Bowie MD, Frederick MD, Gaithersburg MD, Silver Springs MD, or Washington DC.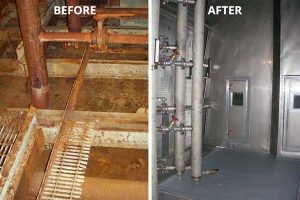 Here, we have put together a few smart benefits of hiring a professional for maintaining and restoring your air handlers. Take a look.
Expert Knowledge
You might think that since nowadays everything is available on internet, you will be able to find all the tips and information you need to maintain your air handlers but this knowledge is not complete and might not always be accurate. A professional has a certified knowledge and expertise in this regard. So, taking his or her advice will be wiser.
Lesser Mistakes
You will be saved from making several minor or major errors in your cleaning and maintenance procedure if you hire a professional. They have years of experience and must have dealt with all the possible errors that can happen and know the right solution in that respect.
So, if you think you want to hire our professionals for your air handler maintenance, then contact us today.