Whether it is your home or office that needs a clean and fresh breeze to enter, chances are you have a system in place that allows this. We, at Air Cleaning Technologies, provide our expert services in the regular upkeep of this system at extremely low costs. Our employees are highly skilled at air handler maintenance works and know how to get it done easily. We have been in this business for a significant number of years and have seen the different eras of heating and cooling machines that have come into the market. We have provided consistent and impeccable quality services at all times. Thus, our long-standing commitment and unending loyalty to our customers has helped us become the go-to firm in and around the areas of Bethesda MD, Washington DC, Frederick MD, Bowie MD, Rockville MD, and Silver Springs MD.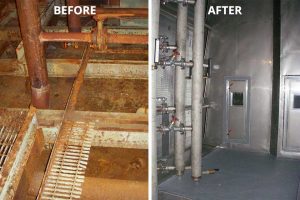 Here, we have put together 3 vital points that you should know about the preservation of machines that control the inflow and outflow of breeze. Take a look.
Perhaps one of the first and foremost points that you should know about is how to know if the machine is in trouble. If the machine is producing noise that is not its regular rhythm or it emits vibrations on being started, then chances are it needs repairs or servicing.
Regular Lubrication Requirements
Almost all machines have a very basic requirement that involves regular lubrication and oiling of its various parts. Over time the oil that is present at its inception dries out and the machine becomes less productive. Only replacement oil will help run it smoothly.
Cleaning Methods to Follow
Different models of the same machine have different cleaning requirements depending on their make and their use. This is vital in keeping the machine clean and unclogged which makes sure that its performance is not affected.
So, if you have such a device at home that needs regular care with respect to the above points then get in touch with us as soon as possible.