If you are running your own business venture, you world certainly want to keep a few aspects n check to ensure the comfort of your employees. This involves regularly maintaining your HVAC systems so as to avoid a complete breakdown later. Instead of spending thousands on repairs, why not opt for maintaining services? This can help you sustain a high level of air qualityand keep the machinery under check. In this context, you must opt for commercial air duct cleaning within regular intervals. So, if you wish to avoid problems like musty air quality, whistling noises, etc. then come to us at Air Cleaning Technologies, where we have all kinds of solution to indoor air quality problems. Not only are our technicians certified and experienced in this field but also make sure that all your emergency HVAC glitches are solved with utmost priority. We stock a huge variety of filters and other HVAC components so that we can assure our clients with the safest air quality every time. So, if you reside in areas like Alexandria VA, Annandale VA, Arlington VA, Fairfax, Reston or Sterling VA, then you can rely on our services.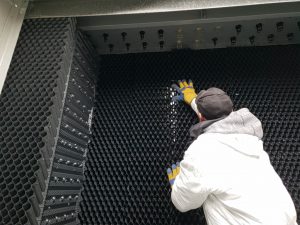 Take a look at a few indicative signs that your system may require an air duct cleaning.  
Unpleasant Odors

 
If you notice undesirable odors from your HVAC unit, then it might be time to go for a duct cleaning service. When moisture forms residue in the ducts, it forms a breeding ground for mold, mildew and other microorganisms, which not only give out pungent smells but can also cause severe health problems in people.  
Clogged Filters

 
Are your filters getting clogged at an abnormal frequency? Then this could indicate air duct problems. When ducts get heavily coated with dust and debris, it can clog the filters very frequently. This eventually reduces the air quality and causes temperature issues in the system. When this happens, you must immediately look for a certified technician who can solve this problem with ease.  
So, if you notice these problems in your HVAC systems, we can be of service to you! Give us a call today to know more.